Our store offers a wide range of clocks.
We have a very large selection of Chelsea ships bell clocks as well as the limited editions "Mariner" and"Pilot" clocks. Also 6″ and 8½" time only American made Chelsea clocks. All are in heavy forged brass cases made in U.S.A. Some of the smaller clocks are German made battery movements in Chelsea made brass cases. The "Millenium", made in celebration of the new century, is available with ships bell or hour gong. The mechanical movements are 11 jewels except for the 6″ and 8½" time only clocks which have 13jewels used for its bearings. Mahogany bases for many models are in stock.
[Click on pictures to enlarge.]
---
Here is a sampling of what is on the floor now:
Click on photos to enlarge.
---
Ship's Clocks
These mirror finished, American made ship's bell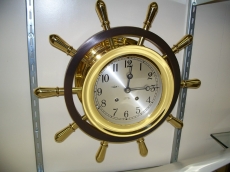 clocks are among the finest made—anywhere in the world. This model called the "Pilot", has a 6 inch dial of heavy brass, silver-plated and lacquered. The statuary bronze plated ring surrounding the clock is of a solid square of brass,not a right angle piece or hollowed out in back. It is drilled for the ship's wheel handles to pass through.The handle ends are threaded so they then screw into the brass case, securing the handles and ring together.The bezel (door) hinges open for weekly winding of this precision movement.