Restoration of Antique French Mantle Clock
from the Boston Public Library—2007
Click photos to enlarge.
---
Antique mantel clock at home in the trustee's room of the Boston Public Library. Made about 1870, standing nearly 36″ high, and weighing almost 200 pounds, this cast bronze, gold plated French clock, had been away from its mantel for over a year while undergoing restorations on the movement as well as the cabinet.
---
Now, brought to our clock shop, we could start to assess, in detail, what parts were missing, how this 19th century artwork was fastened together, and what was going to be the best avenue for its cleaning and re-gilding.
---
These before photos of the dial and of the chapter ring removed, show the damage to the chapter ring's paint and Roman numerals.
---
After refinishing the dial and hands, and repairing and gilding the numerals, the blue porcelain center is cleaned and fitted with new protective winding hole grommets.
---
Before disassembly and cleaning, inspection of the ornate rococo decoration, loose and bent from years of handling, had to be repaired. Missing rod-like finials, as can be seen from the corner decorative work, were reproduced from neighboring pieces to exact specifications. At right we see the clock's right side, finished with finials installed.
---
With the clock now totally disassembled, trayed, and cataloged, we can remake the components needed as well as begin work on the movement.
---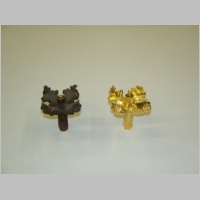 The difference before and after was like night and day. Cleaning off years of smoke and city dirt, returned much of the original finish.
---
The cherub atop the clock before and after. The steel bell cleaned and nickel plated hangs, glimmering from inside the "cage" of arches and oak leaves. All in cast bronze, gold plated.
---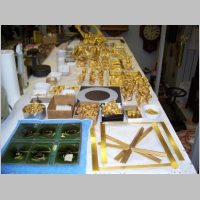 After all the parts are cleaned and gold plated, they are inspected for the quality of the plating and similar components are re-trayed to keep likes together.
---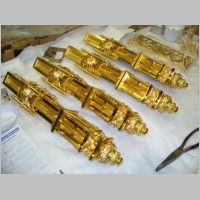 The 4 corner posts, with finials, feet and ornamentation attached are ready to be installed to hold the main clock case together.
---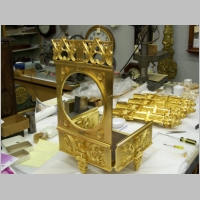 Front for the dial and bottom frame assembled. Note the corner pillars in background.
---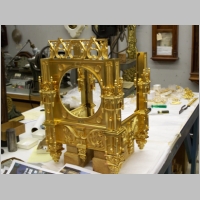 The corner posts are now on. Because of the weight of the parts the clock has to be raised like dry docking, allowing the 4 feet to extend below the rest of the case.
---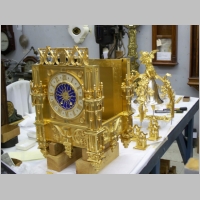 The dial is now set in and the back attached. The cherub, bell and arches are waiting for corner pillar tops and roof to secure the entire frame.
---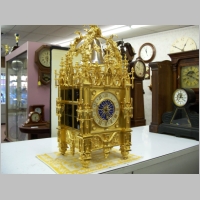 The finished clock with it's dark green bull's eye, leaded glass sides and ostentatious glamor still needed extensive movement repair. While remaking and repairing of the movement parts, conservation and restoration are both equally key issues for a proper repair. "Fingerprinting" of missing parts coupled with research and experience, allowed our Certified Master Clockmaker to restore the movement to full and original function as beautifully as the case.
---