~Antique Clocks~
Riley Whiting Wooden Works Clock.
---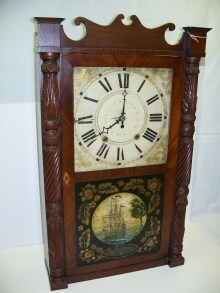 Made by Riley Whiting in Winchester, Connecticut ca. 1830's, this jester top clock runs 30 hours on a single wind, strikes on the hour, and is driven by 2 cast iron weights. Features reverse painted and stenciled door glass, and hand painted dial with gesso and gilding. The movements were made of local woods and are remarkably durable. The plates are made of quarter-sawn oak, the gears are cherry with the smaller pinions being made from rhododendron. These can be expected to maintain accuracy to within 90 seconds per week, and often better.
Ref. #M125
17″ wide, 29½" tall and 5¼" deep.
$850.00
[Click images to enlarge.]