~Antique Clocks~
30 hour, brass, mahogany mantel clock.
---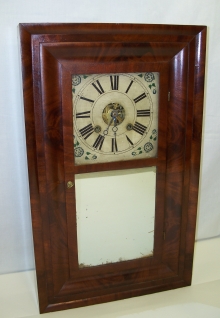 Jonathan Frost died in 1881 and is buried in the Laurel Hill Cemetery in Reading center (see "American Clockmaking Begins" in Clock Tock on this website). Only his name appears on the label, can indicate he was working alone after his partnership with Daniel Pratt was dissolved in 1835. An advancement over the wood movements of the previous 30 years, these brass movements were made by the thousands. They ran 30 hours between windings. They were inexpensive but rugged & reliable. A unique cabinet having several shapes of molding in the case. The dial is its original hand painted wood with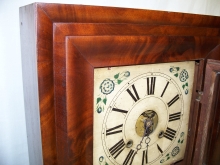 blue and green flowers in the corners—excellent condition. Has the typical two cast iron weights, one for time and one for strike.
Ref. #M141
26¼" tall x 16″ wide x 4¼" deep
$450.00
[Click images to enlarge.]