~Antique Clocks~
Mahogany Round Sided Mantel Clock.
---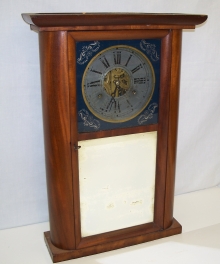 This different mantel clock was made by C. (Chauncey) and N. (Noble) Jerome in Bristol, Connecticut between 1834 & 1839 when these brothers worked together. They were successors to the clock makers Jeromes' & Darrow, see clock #M133. It has a round zinc metal dial and a weight-driven 30 hour brass movement. Small label is nailed onto the back board through a blue cover paper. This is uncommon but original. The original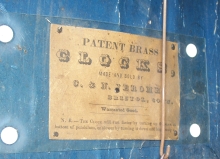 top glass is reverse stenciled in white with blue background & a perimeter gold band around the dial. Has been refinished, but discretely and well done. A nice little clock.
Ref. #M138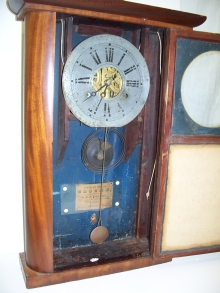 22¼" tall x 13½" wide x 4″ deep
$675.00
[Click images to enlarge.]