~Antique Clocks~
30 Hour Wooden Works
Looking Glass Shelf Clock.
---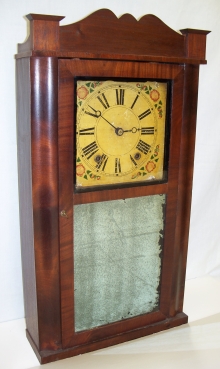 Jonathan Frost worked in Reading, Massachusetts, in partnership with Daniel Pratt Jr., from 1832–1835. They started out buying clocks and parts from Burr & Chittenden of Lexington, Massachusetts. (See clock #132) Frost was on his own from 1838 to about 1850, the era in which this clock was made. The label shows removable overlay of protective plastic. Original, nice floral dial, as well as glasses, with the top glass having a painted half inch perimeter as a border. This border is typical of Frost & Pratt clocks. A nice, little smaller clock.
Ref. #M136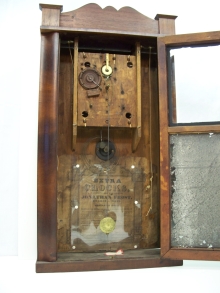 28″ tall x 15″ wide x 4¼" deep.
$575.00