~Antique Clocks~
Ansonia Porcelain Mantle Clock
Made by The Ansonia Clock Co. of Ansonia, Connecticut and Brooklyn, New York.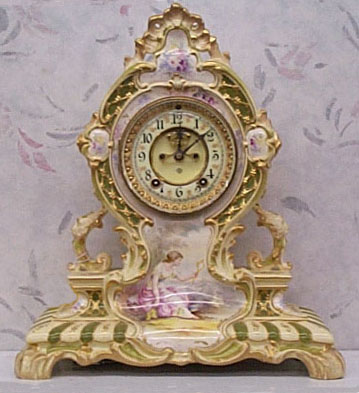 An elaborately hand-painted case, decorated with violet, green, and soft blues, this mantle clock was made ca.1905 by the Ansonia Clock Co. in Brooklyn, New York. The case has survived with out any cracks, chips, or breaks and is in remarkable condition.
The porcelain dial has black Arabic numerals spaced apart by a decorative design in deep red. The center portion is recessed or sunken to provide for the viewing of the jeweled outside escapement pallets as they rock back and forth allowing the escape wheel to release 1 tooth (or tick) at a time.
All of this is sealed under a hinged, heavy beveled glass door that allows access for winding weekly. The 8-day movement is spring wound and has been completely restored by The Clockfolk.
It has a small pendulum seen through the back door which receives impulses from the two rubies on the outside escapement. An hour and half hour gong strike, this entire clock is original and in excellent working condition.
Ref. #M101
16″tall, 14″wide, 6″deep
$2850.00