~Antique Clocks~  
Carved column and splat
30 hour wooden works.
---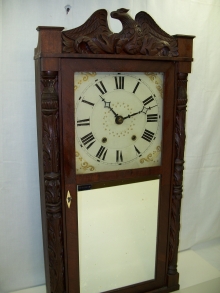 Beautifully carved eagle splat & columns, retain their original finish & ivory lock escutcheon. The shellac has crazed from age. This is a 30 hour wooden works movement that strikes on a bell and has a great label, which is not seen very often. Price includes movement cleaning and cables, as it is very original. A nice example of this kind and make.
Ref. #M142
35″ tall x 17″ wide x 4½" deep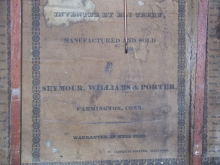 $1850.00
[Click images to enlarge.]