~Antique Clocks~
Bronzed Looking Glass Clock.
---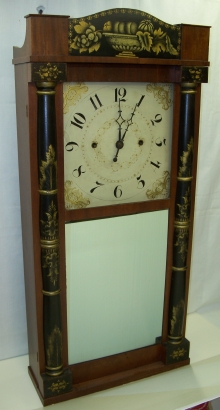 Called a bronzed looking glass clock because the column and top splat stencils are done in bronze stenciling powder. This is similar to the furniture today that has hand applied stencils such as, for example, Hitchcock chairs. Varnish is applied to the clock and when it is almost dry, the stencil is layed on the varnish area. The desired color powder is gently applied and shaded.
This wooden works clock has a wonderful stencil and finish, either original or an excellent older restoration of both. A great, delicate hand painted wood dial gilded with gold leaf. Clock is weight driven. Working in the late 1820's & early 1830's, these makers used local woods such as cherry, oak & rhododendron. These woods cut correctly and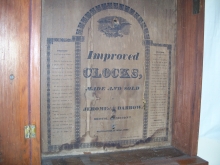 dried have lasted almost 200 years and have made a clock that still keeps a very acceptable time.
Ref. #M133
35″ tall x 16½" wide x 6″ deep
$1500.00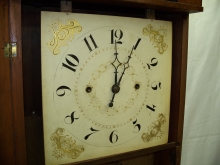 [Click images to enlarge.]