~Antique Clocks~
Brass Mainsprings Steeple Clock.
---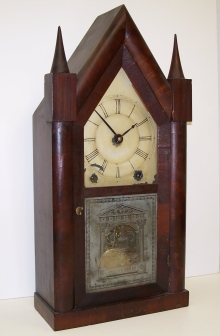 This is an 8-day mantel clock manufactured before the rolled steel process was perfected, hence the use of rolled brass for the mainsprings. Mainspring clocks, of this era, would have had brass mainsprings as it was able to be worked more efficiently with better results. However, few clocks still retain their original brass springs. This is a rare find—even 40-50 years ago, these were hardly ever found. Great label claiming Jonathan Frost as the maker & seller. Like today, rarely does one find all parts of anything, made by a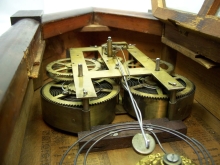 single shop or factory. Frost bought many parts and movements from established Connecticut makers. This movement, original to this case, was manufactured by Brewster & Ingrahams, Bristol, Ct. U.S.
Ref. #M130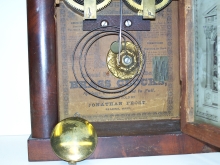 20″ tall x 10″ wide x 4¼" deep
$1575.00
[Click images to enlarge.]