Clockfolk:
Qualified, Experienced
Grandfather Clock Repair.
---
About The Clockfolk of New England
The Clockfolk of New England is an in-house, full service company, providing the repair, rebuilding, restoration and conservation of antique & modern clocks. Because all work is done in-house, we can provide a very accurate quality control, to the level of repair agreed upon, at the time the clock is brought to us for service.
Our goal is to maintain authentic condition where possible or to remake parts as original when necessary. In short, we do the work as we would want it done if we owned the clock ourselves.
---
BACKGROUND OF THE CRAFTSMEN
James and David Roberts established the Clockfolk of New England in 1975, after 5years of full time horological (clock and watch) study at The Bowman Technical School in Lancaster, Pennsylvania. At Bowman, they learned clockmaking, watchmaking and jewelry repair by the Swiss system, whereby students studied as apprentices under several master craftsmen. During very intense courses, students started with the basic manufacture of small parts from raw materials, increasing their skills, over the years, until qualified to work on a complete clock. Part of the "final exam" was to build a seconds-beat, high precision regulator timepiece, using no pre-manufactured parts. Upon completion of the studies, each brother achieved the title of Certified Master Clockmaker, awarded by the American Watchmakers and Clockmakers Institute at Cincinnati,Ohio.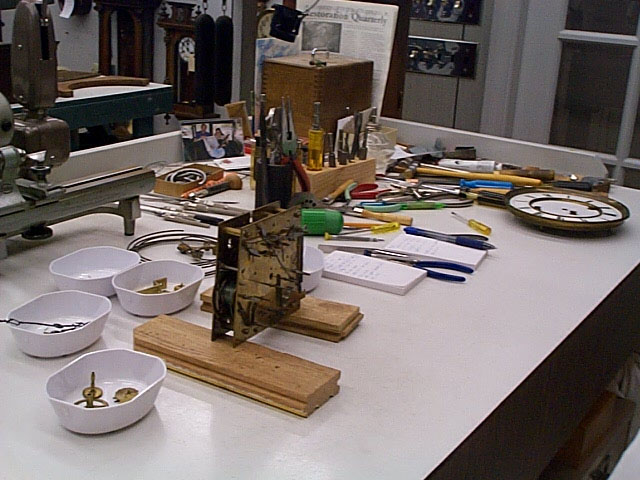 Through the years, the Roberts' found a need to perform more specialized repairs, causing them to seek out retired craftspersons who could be convinced to teach them various rare horological and decorative arts of a bygone era. David and James have taken other specialized courses of study as far away as England.
---
SOME OF THE TECHNIQUES PRACTICED
IN THEIR NORTH WILMINGTON SHOP INCLUDE:
faux finishing
gold leafing

stencil cutting and application
eglomisé (reverse glass panel painting)

cabinet work and refinishing
mirror silvering on antique glass
hand carving
---
THE CLOCKFOLK HAVE BEEN RECOGNIZED IN:
Traditional Home Magazine, June 1991
New England Cable News, November 2000
Letters of Commendation: Lancaster Penn. County Historical Society